↯ Charting The Path To Sustainable Growth.
#1: Lead Capture That Converts Visitors To Subscribers At 20.5% (And Topping At 38%)
A huge buying block for shopping for sunglasses online is the inability to know whether they'd fit your face without trying them on. Working together with the brand, we developed an on-site "quiz-like" experience that allowed the users to select the most appropriate glasses based on their facial bone structure and gender.
It was a campaign that matched the user's needs perfectly. Even though we hacked it together in a couple of hours using nothing more than WordPress's Elementor Pro, the results speak for themselves.
The campaign topped at 38% conversion rate and averaged a 20.5% conversion rate over a 7 month period.
But here's the best part. We used this opportunity to also collect zero-party data from the subscribers. In the future, this means we'd be able to make personalized recommendations based on the user's gender and facial structure.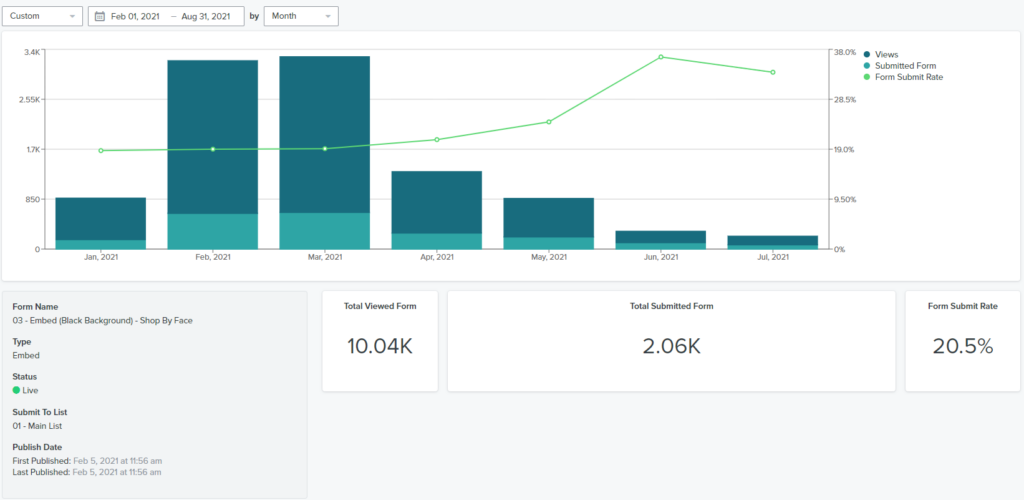 #2 – Automated flows – the answer to monetization and relevance.
First, we created the core e-commerce flows. This included retargeting automation, such as cart and browse abandonment flows. It included onboarding journeys for new subscribers and post-purchase sequences that ensured the shopper's expectations were met. The difference is in how we executed these automations.
Online shopping lacks the human touch offered in brick-and-mortar stores. Apart from that, when it comes to eyewear specifically, each subscriber has different needs and styles. Even though the price point is not high, there is anxiety.
The way we alleviated that anxiety was through highly personalized content. The automations pushed new sales, yes, but they also checked how the shopper was doing, whether they were happy with their purchase, what new products the brand ought to develop, and more.

The Greek e-commerce market is thriving but years behind in marketing innovation. This was a highly unusual experience for Greek shoppers. They responded in an extremely positive way. First, by shopping. In as little as 90 days, email marketing was contributing 20% to the store's total revenue. Secondly, by replying to the brand's emails, giving feedback, reviewing products, and actively engaging with the brand's content in other channels.
The above mentioned strategy allowed us to:
So, what happens when you have a good product and price point, a customer-centric brand founder who "gets" digital marketing and a fully automated, personalized email marketing strategy?
You get a 57.75$ return on investment. Beating similar store benchmarks by 25.5 % in 90 days… hands-free.
You also get a self-improving system to understand your customers better, at scale. Strengthening the hold on your customer base and giving you the tools you need to push new growth.
The bottom line: Red Raven was able to grow at scale without throwing money at wasted efforts.
Results achieved in 90 days of starting